Process - Top Tips - The four P's of marketing
The four P's of marketing
<![if !vml]>

<![endif]>
This document is designed as a quick reference guide to The Four PÕs of
Marketing
This will enable you to gain knowledge of a particular skill, task or process.
This means you can quickly find the key information that you need and refer to it on an ongoing basis whenever you need to refresh your knowledge.
What you need to knowÉ
The major marketing management decisions can be classified in one of the following four categories:
<![if !supportLists]>● <![endif]>Product
<![if !supportLists]>● <![endif]>Price
<![if !supportLists]>● <![endif]>Place (Distribution)
<![if !supportLists]>● <![endif]>Promotion
<![if !supportLists]>● <![endif]>
These variables are known as the marketing mix or the four PÕs of marketing.
They are the variables that marketing managers can control in order to best satisfy customers in the target market. The marketing mix is portrayed in the following diagram.
<![if !vml]>
<![endif]>
Process - Top Tips - The four P's of marketing
The four P's of marketing
Organisations work to generate a positive response in the target market by blending these four marketing mix variables in an optimal manner.
Step by Step
Product
The product is the physical product or service offered to the consumer. In the case of physical products, it also refers to any services or conveniences that are part of the offering.
Product decisions include aspects such as function, appearance, packaging, service, warranty, etc.
Price
Pricing decisions should take into account profit margins and the probable pricing response of competitors. Pricing includes not only the list price, but also discounts, financing and other options such as leasing.
Place
Place (or placement) decisions are those associated with channels of distribution that serve as the means for getting the product to the target customers. The distribution system performs transactional, logistical, and facilitating functions.
Distribution decisions include market coverage, channel member selection, logistics and levels of service.
Promotion
Promotion decisions are those related to communicating and selling to potential consumers. Since these costs can be large in proportion to the product price, a break-even analysis should be performed when making promotion decisions. It is useful to know the value of a customer in order to determine whether additional customers are worth the cost of acquiring them.
Promotion decisions involve advertising, public relations, media types, etc.
A summary table of the marketing mix
The following table summarises the marketing mix decisions, including a list of some of the aspects of each of the 4Ps.
<![if !vml]>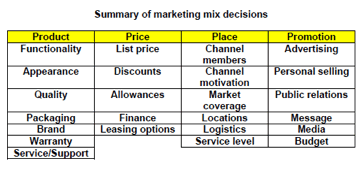 <![endif]>